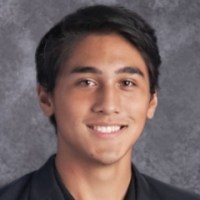 Philip Usonis, better known as Phil, has been a phenomenal student-athlete for the past 8 years. He is a special student who takes interest in things that not many others dare to venture toward. For instance, he is a passionate lover for the TV-series "Naruto" and binge eating hot Cheetos. He is hopeful to graduate from CHC this coming June and later attend Virginia Tech with an undecided major. BELIEVE IT!
With an immense hate for running, he ponders on why he ever chose to play soccer or try to be a ninja in the first place. Each day he struggles to keep up with his busy schedule of school, soccer, and cosplay.
Eventually he wants to become a pilot, but is unsure if he wants to pursue his dream through the military or commercial airlines. Hopefully his chakra doesn't run out while operating the planes in years to come.
Philip Usonis, Staff Writer
Mar 29, 2018

Spotlight on Mason Dodzik – Class of 2018

(Story)

Feb 02, 2018

Battle of the Bands – Lethal Yeast's Winning Debut

(Story)

Jan 25, 2018

Student Spotlight – Frank Zhu – Class of 2018

(Story)

Jan 25, 2018

Student Spotlight – Dajour Rucker Class of 2019 – The Unstoppable

(Story)

Jan 10, 2018

Jumanji Gives New Meaning to the World of Gaming

(Story)

Dec 20, 2017

Transracial – Are We Ready for This?

(Story)

Dec 12, 2017

Spotlight on Bryce Harrison and Sebastian Gunbeyi – The Most Iconic Dynamic Duo

(Story)

Nov 28, 2017

Varsity Boys Soccer's #1 Fan – Megan Zimmerman

(Story)

Oct 25, 2017

Keeping Up Traditions

(Story)

Oct 18, 2017

Dylan Cake – Student Spotlight

(Story)

Sep 29, 2017
Sep 25, 2017

Feeling the Pressure – Increase in Injuries Due to Overuse in Sports Related Activities

(Story)