Spotlight on Bryce Harrison and Sebastian Gunbeyi – The Most Iconic Dynamic Duo
Seniors Bryce Harrison and Sebastian Gunbeyi have made Cape Henry history this past soccer season. This shifty, quick cutting, and composed duo could weave through any set of defenders in the state with ease. Together they racked up an impressive 57 goals and 34 assists. Their ability to work together and create unthinkable plays were enough to turn heads at every game, let alone their individual talent. With these two on offense, they would easily have two or more goals a game with back to back assists to each other. There were only two games recorded that neither of them scored in; other than that, at least one of them scored in every game this past season.
The unstoppable pair ran the field since the first day along with the help of other offensive players. Crowds of newcomers would form from all over the Virginia Beach area just to watch the two for an hour and a half. In each game Harrison and Gunbeyi would learn and understand what exactly to do for the other, making it impossible for defenders to stop. They thought as one, yet still managed to play their own style.
During the end of the season banquet, Coach Brun described Harrison as a quick cutting winger with the best ball control in the city and was also the fastest dribbler in the state. He said Bryce knew "how to pass defenders with ease, using pace and agility."  Gunbeyi, on the other hand, was smart, composed, and he "could finish any shot with his left foot banger." He also had the mindset of true winner and could not stand to lose.  Together, the two created a combo that sliced through every team in the state and left defenders and goalkeepers in the dust.
Overall the past season would not have been quite as exciting if Cape Henry did not have these two on the pitch. They both found a way to ignite the crowd and team which ultimately led to the confidence that the team had going into state finals. This duo will be remembered for the years they have participated and will be reflected upon by Coach Brun quite frequently in seasons to come.
Leave a Comment
About the Contributor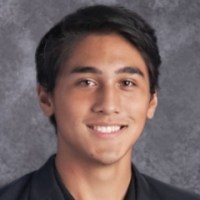 Philip Usonis, Staff Writer
Philip Usonis, better known as Phil, has been a phenomenal student-athlete for the past 8 years. He is a special student who takes interest in things that...