Jumanji Gives New Meaning to the World of Gaming
This review contains SPOILERS–
This past December, a stand alone sequel to the original Jumanji was released featuring various well-known actors including Dwayne "The Rock" Johnson, Kevin hart, Jack Black, Nick Jonas, and Karen Gillan. It received a 7.2/10 rating on IMDb and has made an impressive 678 million dollars worldwide gross so far with an estimated 90 million dollar budget.
Jumanji – Welcome to the Jungle is rated PG-13 and is for the most part child friendly, although there are scenes incorporating alcohol use, violence, and mild profanity. It is labeled as an adventurous-comedic movie with the help of Kevin Hart, Jack Black, and Dwayne Johnson.  This film was intended to be a modern day video game rather than the original board game featured in the 1995 film starring Robin Williams. It starts off with four high school students who managed to get into detention when they find a mysterious video game in the basement. The five players featured in the game were Dwayne Johnson as Dr. Bravestone, Kevin Hart as Moose Finbar, Nick Jonas as Alex, Karen Gillan as Ruby Roundhouse, and Jack Black as Dr. Oberon. Each of the characters were chosen almost to the exact opposites of what they were like in real life. For instance, one of the high school students was a skinny, nerdy, and shy young man who ended up turning into a very heroic Dwayne Johnson.
According to senior, Gabby Lascari, the film's funniest moments were when the characters were experiencing their new bodies. She went on to say, "I think what makes the film so funny is the casting and how the players were transformed into their exact opposites." The film's way of portraying the characters gave it a twist and made in interesting to watch how the different players learned their new bodies and personalities.
As far as casting goes, they were well chosen and each of them did a great job portraying the role they were given. One particular character, Jack Black, did an outstanding job on portraying Bethany, a high school girl who is very self absorbed.  Black was so convincing at times that I could literally believe there was somebody else in his body.
The plot of the film was a very typical, mainstream, Indiana-Jones feeling type of movie. The characters basically had to return a stone to mountain, which is a very simple task and didn't give much room for the film to have any plot twist or ever get interesting.
Although the plot of the film was very simple, the ending is what most viewers felt was the best part in the entire movie. It gave us a look at Alex as an adult, finally meeting the other characters when they all return. Alex ended up naming his newborn daughter after one of the girls that he met while stuck in Jumanji, which gave a very emotional and touching ending for the Bethany/Jack Black fans.
Leave a Comment
About the Contributor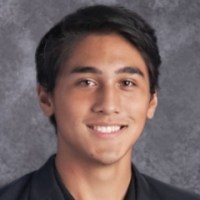 Philip Usonis, Staff Writer
Philip Usonis, better known as Phil, has been a phenomenal student-athlete for the past 8 years. He is a special student who takes interest in things that...