Varsity Boys Soccer's #1 Fan – Megan Zimmerman
Out of all of the parents, friends, and teachers who support our boy's varsity soccer team, there is one person who exceeds them all… Megan Zimmerman.
Megan is in fourth grade here at Cape Henry and has been supporting our boy's soccer team since the very first game of the season. You could catch her watching the boys from the top of the playground tower from the minute they started warming up, all the way to when the final whistle was blown after the game. Megan said that she first had an interest in watching the boys play because they were nice to her as they passed by on their way to practice. After a short amount of time, she began to love watching the boys play because she believed that they were teaching her more about the game than she could have ever imagined. Megan stated that, "The team taught me how to communicate while on the field, and how to love the game even more.  They use great teamwork and it makes it fun to watch. They are all amazing role models, and I hope to be just like them when I'm older."
Through the values, style of play, and teamwork that the boys soccer team was displaying on the field, Megan has found that she has been able to increase her own abilities on the field. Ultimately, this led her to become a travel player for Virginia Beach Rush this year.
When Megan was asked who her favorite player was, she smiled and simply stated, "I have many favorites, but John Ermini is my absolute favorite. Last summer at soccer camp, when we had breaks, everyone would get on their phones, but John would play keep away with me instead. I learned a lot of fancy footwork from him!"
Megan and Mrs. Zimmerman came to all of the important games that determined our season, and if they weren't able to make it, they would follow up the scores online. Before the TCIS finals game vs. Norfolk Academy, Megan made her way into the senior lounge to wish the boys good luck and to collect some of their signatures. She also dropped off a handwritten letter which Coach Brun and Coach Facemire now have in their possession and will likely keep for years to come as a testament to the powerful impression that players have on younger children.
Megan's encouragement and the team's ambition led them to the State Finals in Richmond in which they brought home a State title for the first time in Cape Henry history. There is no doubt among the players that Megan played a vital role in the team's success this year, and they are all so grateful. Having a fan such as Megan gave the boys the extra inspiration they needed as the season went on. On behalf of the boys soccer team of 2017, we would like to thank you Megan and Mrs. Zimmerman for all the support you have given the team this year!
Leave a Comment
About the Contributor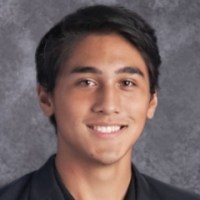 Philip Usonis, Staff Writer
Philip Usonis, better known as Phil, has been a phenomenal student-athlete for the past 8 years. He is a special student who takes interest in things that...