Battle of the Bands – Lethal Yeast's Winning Debut
This year's Battle of the Bands turned out to be a great hit. There was a massive amount of people who came this year compared to last year's event. There were many talented bands featured and a few solo singers that made their way to the stage, not to mention a special performance from our teaching staff.
This year winners were "Lethal Yeast" which consisted of Sam Townsend, Rex Serpe, Ryan Mancol, Ethan Jones, Elaina Duncan, Brett Dudley, Nathaniel Thomas, and lead singer Grace Fluharty. The band performed three songs: Hot For Teacher, Money, and Somebody to Love. According to Lead Singer, Grace Fluharty, "There were a lot of kids this year, and there was even more enthusiasm coming from them. They made it really fun for us to perform." Everyone a part of Lethal Yeast said that they had a fantastic time performing and really enjoyed themselves on stage.
Besides great vocals from Grace Fluharty, Sam Townsend, Brett Dudley, Elaina Duncan and Nathaniel Thomas, there were amazing students with real instrumental talents. Ethan Jones performed on saxophone, Ryan Mancol on drums, and Rex Serpe and Sam Townsend shredding on guitar. The group did amazingly well and really got some positive feedback from the crowd.
Along with Lethal Yeast, there were other extremely talented bands that deserve a special shout out. First, Peter Pan's band used a special Chinese instrument that they learned to play in honor of Battle of the Bands.  Next, Nathan Branson performed an emotional solo that had kids in awe throughout the performance, and last but not least, Kendall Hathaway performed an amazing piano solo.
This year's battle was only as good as it was because of the amount of people that decided to come this time around. So, a special thanks to all the band members and also the audience! Let's do it again next year!
Leave a Comment
About the Contributor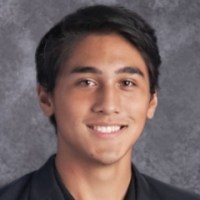 Philip Usonis, Staff Writer
Philip Usonis, better known as Phil, has been a phenomenal student-athlete for the past 8 years. He is a special student who takes interest in things that...