Dream Season
The Dolphins had an incredible season this year, winning not only the TCIS regular season title, but also the TCIS conference title. The boys started the season off strong in December when they hosted the Cape Henry Duals, taking on First Colonial, Northampton, Green Run, Indian River and John Paul the Great. Cape Henry placed 2nd overall in the duals, triumphing over Northampton (48-30), Green Run (60-24), Indian River (44-33), and John Paul the Great (45-30). And while the boys competed well against First Colonial, the boys were unable to beat the 2nd ranked team in the region, falling to the Patriots 52 – 21. However, Brenden Hawley (113), Luke Harvich (126), Ellis Chay (160), Tommy Christianson (182) and Hunter Christianson (195) all placed 1st in their respective weight classes, and Luke was named the tournament's "Most Outstanding Wrestler."
Four days later the Dolphins faced the Norfolk Christian Ambassadors at home and came out victorious with a final score of 72 – 12. The boys performed exceptionally well against the Ambassadors with Hunter Christianson pinning his opponent in 0:24 and Parker Tanner-Vigil pinning his opponent in 0:19. In the third match of the night, Conner Garrison trailed 7-4 in the third period with 0:10 remaining. With defeat looming, Garrison focused and managed to get a take down and eventually pin his opponent with 0:05 remaining on the clock.
On December 10th and 11th, the Dolphins competed in the Richmond Invitational at Hermitage High School, placing 11th out of 18 teams.  Luke Harvich (120) and Hunter Christianson (195) both finished first in their weight class with 4-0 records. In addition, Jordan Scott and Brenden Hawley each placed 6th in their respective weight classes.
At the Norfolk Academy Invitational, Hunter Christianson trounced the competition taking 1st place in the 195 pound weight class. Ellis Chay, with a record of 3-1, took 2nd place after falling to his opponent from Tallwood in the 160 pound weight class. Jordan Scott brought home 3rd place at 152 with a 4-1 record, and Parker Tanner-Vigil finished 6th at 285 with a record of 3-3 after sustaining an injury that prevented him from continuing in the tournament.
On January 18th, the Dolphins faced off against the Norfolk Academy Bulldogs and cruised to a 57 – 12 victory. Jordan Scott (152) got the crowd into the spirit by pinning his opponent in 1:03 and was followed by Tommy Christianson's 13 – 3 win at 170. The boys kept their momentum going as Jackson Kassir (182) and Hunter Christianson (195) pinned their opponents.
The Dolphins continued their winning streak after defeating Norfolk Collegiate 61 – 6. Although the Dolphins earned a majority of their points due to forfeits on the part of the Oaks, the remaining points were earned during the individual match ups. Brendan Hawley, Connor Garrison, Tucker Bruner and Will Fabrizio all managed to beat the competition.
Next, the boys came face to face with the Peninsula Catholic Crusaders. Although the match was close, they pulled out a 45 – 31 victory. Parker Tanner-Vigil earned an key 11-9 victory as the heavy weight, while Luke Harvich (:31), Tucker Bruner (2:51), Reece Fowler (3:21) and Tommy Christianson (1:37) all pinned their opponents with relative ease.
On February 9th, the Dolphins hosted the Bishop Sullivan Crusaders for Senior Night and the TCIS regular season championship. With a majority of the Crusaders out with the flu, the Dolphins churned out six pins to go along with a major decision, losing just one match in the process. Reece Flower, Jordan Scott, and Hunter Christianson all finished out their last home match with a pin, while Tommy Christianson earned a major decision victory, and Luke Harvich received a forfeit. This triumph over Bishop Sullivan 76-6 secured their undefeated season and earned the boys the title of the TCIS regular season champions.
On February 12th, the Dolphins earned the TCIS tournament championship title in a blowout. The boys finished with 343 points, well ahead of Bishop Sullivan who totaled 281 points. Luke Harvich (120), Reece Fowler (138), Ellis Chay (152), and Hunter Christianson (195) each placed first in their respective weight classes, earning them a TCIS individual championship title. Luke Harvich was also named the TICS Most Outstanding Wrestler for his dedication and hard work over the course of the season. Luke's victory in the 120 weight class also made him the first person to win a TCIS individual championship title five times in a row.  Brenden Hawley (106), Tucker Bruner (126), Jordan Scott (160), Zach Maiden (220), and Parker Tanner-Vigil (285) each earned second place in their respective weight Colby Kassir (132), Sam Goshgarian (145), Tommy Christianson (170), and Jackson Kassir (182) finished in third.
Senior Jordan Scott, who was vying for a first place finish in the 160 pound weight class said, "Life sucks when you don't get what you want, but at the end of the day the Dolphins brought home a title and that's enough to be happy about."
The following week, the Dolphins traveled to Richmond to compete in States. The competition was hard, but Hunter Christianson (195) and Luke Harvich (120) managed to pull out first and second place victories respectively. Luke went undefeated into the championship match against the top-seeded wrestler in the weight class, but fell with a final score of 8 – 4.
Both Hunter and Luke qualified for the National Preps Tournament and for the second time in his wrestling career, Luke returned an All-American. Luke competed in the 120 pound weight class and finished with a record of 3 – 3. This put him in 8th place in the tournament, which equates to an 8th place finish in the country. When asked for a statement about his victory, Luke responded simply, "I'm an All-American."
Hunter Christianson finished out his high school career with a 3-2 record overall, earning two pins and a 4 – 0 decision. "It's been one h— of a run," said Hunter Christianson after the tournament, "but in the end, I'll still take three conference titles and a state title."
The boys had an excellent season this year, finishing first in both the TCIS regular season and the TCIS tournament. Furthermore, the Dolphins placed seventh in states and had two boys compete in the National Preps tournament with one returning home an All-American. No doubt, next year the boys will have big shoes to fill, losing five heavy-hitting seniors.
Leave a Comment
About the Contributor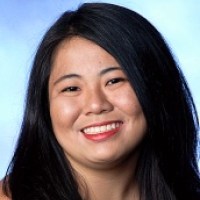 Julie Reid, Staff Photographer, Staff Writer
Julie J. Reid was born in Xiangtan, China. She was adopted at eight months and then was brought to Virginia Beach where she has remained ever since. Julie...