Six Athletes Sign National Letters of Intent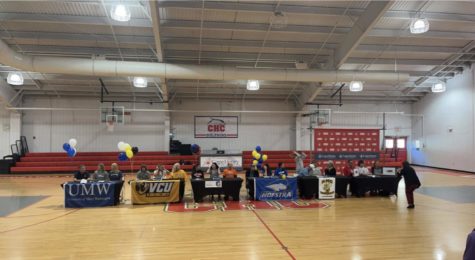 On Nov. 9, 2022, six students sat at the Cape Henry Collegiate Napolitana Family Gymnasium to sign their National Letters of Intent. According to scholarshipstats.com, less than 7% of high school student-athletes make it to the next level of college athletics. So, having this many students sign their letters is an event the School wanted to highlight. These athletes consisted of seniors Alexandra Gordon, Victoria Winans, MacKenzie White, Jillian Somers, Jackson Keller, and Cooper Angilly. Friends, family, and teammates joined these six students to witness this next step in their athletic journey. 
Senior Cooper Angilly is a multi-star student-athlete on the varsity boys soccer team and the varsity boys baseball team.  He signed with Rhodes College to play baseball for the next four years. 
When an athlete is looking at colleges and universities, they often wish to go to or pick between them for more than athletics, and consider academics and other factors as well. Cooper Angilly is no different from those athletes.
"I liked the location of the school and the academic carrier that I can pursue," Angily said. 
When athletes sign their National Letter of Intent to play for their respective schools, many different emotions can circulate in their minds. Angilly touched on how he felt at that moment. 
"It was great to finally commit to a school and know that's where I'll be spending the next four years, and I can't wait," Angilly said. 
Along with Angilly that day, senior MacKenzie White also signed to play field hockey at Virginia Commonwealth University. VCU is located in Richmond, Virginia and is home to the Rams field hockey team. 
White had her official visit to VCU on Oct. 10, 2021, where she had a tour of the facilities and the university. Official visits provided a moment for prospective athletes to see themselves at the university or college for the next four years of their life. But, they could also bring up other emotions and experiences for the athletes, and White had different feelings. 
"I felt really old when I had my official visit, because it isn't really something that people talk about," White said. "I felt like I was famous or something, and that's not a feeling I ever expected to get the opportunity to experience."
White received the offer from the field hockey team coach later that day. White started her field hockey journey in her seventh-grade year at Cape Henry Collegiate, and all of her work from seventh grade until her junior year lead up to this moment. 
"I was super ecstatic because I had been working really hard to commit since I was in 7th grade, and it was a relief to know where I wanted to go to college," White said. 
Coach Kim Dooren had four of the seven seniors sign their National Letter of Intent Nov. 9 to proceed to the next level of field hockey. This is the most players the varsity field hockey team has seen sign at one time in years. 
"Over the years, I have seen six field hockey girls sign their National Letters of Intent: Olivia Zettervall, Olivia Wallace, Alex Gordon, Jillian Sommers, MacKenzie White, and Tori Winans," Coach Dooren said. "This specific class of 2023 has produced the most signees in one year in the Cape Henry Collegiate field hockey program in several years." 
Leave a Comment