Competitive Sports Take an Unexpected Turn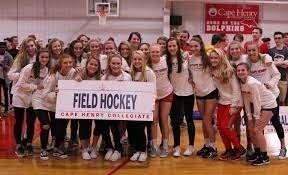 In March, when Covid-19 struck our country, almost everything took an unexpected turn. The sports industry which generates 26 billion dollars a year took its biggest hit in history.  For years, sports have brought passion to people by bringing them together for a common goal. This year is one that will be remembered for forever changing sports in every direction. Cancellations to sports all across the board were made. Starting with no March Madness, no Olympics, and now college sports can't have their fall seasons.
For Cape Henry teams, the spring and fall of 2020 athletes never got the opportunity for future championships. It was devastating to many athletes, and sports fans of all kinds. Chloe Mugler is upset that she and her team don't have the opportunity to win states for potentially 4 years in a row. There were no sports to watch on tv, no games to travel to. Mr. Fluharty is going to miss watching the field hockey team this year. Chloe has missed watching football. It took a while for a lot of people to grasp that this was really happening. As we have adjusted to the obstacles faced during a pandemic, there have been many solutions to help continue with sports. Sports will hopefully start to make more of a comeback as the year progresses.
Leave a Comment