CHC Athlete of the Week – Colin Sharp – Week of May 3, 2019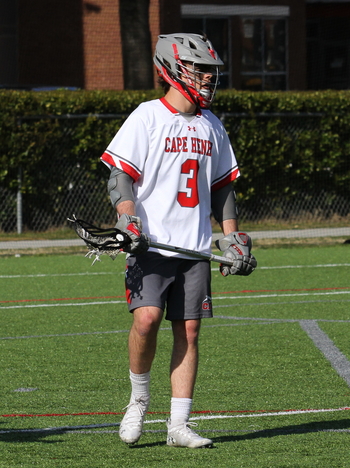 Number three on the field, number one in scoring, this week's Athlete of the Week, senior Colin Sharp has dominated the offensive side of the field throughout his career and is continuing to dominate in his final Cape Henry Collegiate athletic season. Emerging as not only the top-offensive threat for the Dolphins but as a leader of the program, Sharp has led the Varsity Lacrosse program through one of the most challenging schedules in Cape Henry Collegiate history, finishing with a record above .500 and a second place finish in the TCIS regular season.
"What makes Colin unique is his ability to get the ball out of his stick very quickly and with a high velocity. Many guys have a quick release— and many guys shoot it hard.  Not many players can shoot it that hard with such a quick release," Head Coach Joe Thompson said of Colin Sharp.
With nearly 50 goals and 15 assists on the season, it is clear who opposing teams attempt to shut off from the outset of each contest. Through 17 regular season games, Colin has scored 48 goals, assisted 14, and picked up a total of 62 points in 2019. Throughout competition last week, Colin's three-goal performance led the Dolphins in an overtime victory against the Saints from Nansemond Suffolk.
What is most impressive about Sharp's final Dolphin season? Colin has contributed his best play against the State's toughest competition. Six goals against #2 St. Stephen's, St. Agnes, four goals against #1 St. Christopher's, and five goals in last night's regular season finale against #5 Norfolk Academy, Colin is at his best against the best competition.
"He's as good a shooter as anyone I've coached. It's impressive to watch, and it's something Colin has worked very hard on. He has also become a better passer; Colin draws a lot of attention, and as such, his teammates are open a lot.  He has done a much better job finding those open teammates than he did a year ago," Coach Thompson continued of Sharp.
Throughout his career with Varsity Lacrosse, Colin has amassed over 120 goals and cemented his name in Dolphin Lacrosse as one of the program's most potent scorers. Sharp's natural athletic ability is only outmatched by his incredible work ethic on the athletic fields. He is a pure scorer, one of the best, scoring goals in bunches against the best in the area.
As Coach Thompson finished of Sharp, "I love coaching Colin, and I wish we had more time together. I hope to make the most of the time we have left."
With the postseason underway on Monday, Colin and the rest of the Dolphin roster will look to redeem the second place regular season finish during the TCIS tournament before making a deep run into the Division I State Tournament the following week. The Dolphins will look to make the most of this senior's dynamic scoring ability Monday against Steward School.
Leave a Comment