Sometimes Being Talented Isn't Enough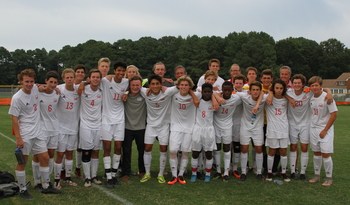 The Cape Henry Varsity boy's soccer team has been on an impeccable run this year with some very key wins and became the regular conference champions. While going into TCIS (Tidewater Conference for Independent Schools) tournament, the team was nervous but excited for the big games ahead.
The first game in the tournament was against Norfolk Christian where Cape Henry racked up an impressive 7 goals for a win in the tournament quarterfinals.
Heading into the semifinals the stress started to accumulate since Cape Henry was going to play Norfolk Collegiate after their upset win against Walsingham Academy. This team Cape Henry defeated in the regular season by 3 goals was starting to beat teams that Cape Henry had a hard time beating ourselves.
Pressure mounting, they walked onto the pitch knowing that they weren't gonna hand our boys anything, expecting a battle to the very end. 80 minutes later, our boys walked off the pitch 3 goals richer after having fought a hard battle to not allow any goals to be scored against them.
Keeping in mind not to take things for granted, Coach Brun reminded the players, "You may have won this game, but it will only get harder from here."
The Finals, an unavoidable best, was all that stood between Cape Henry and the trophy they thought they deserved.
Everyone hyped up the game and with every motivational word in the days before, the pressure mounted.
Finally, Friday arrived and it was the day of the biggest game of the season: Cape Henry was playing our biggest rival: Norfolk Academy. Going into this game, we knew that it would be the first time that most players had ever played in a game this big, so they tried to settle each other's nerves.
Cape Henry arrived at the game at 5:30p.m. and began to get the lay of the land. 6:00 arrived, and Cape started to warm up the same way they always do: with a team stretch, a couple of sprints, and then straight into drills. 7:00 came and it was time to kickoff. Both teams lined up at the mid field and looked at the crowd. With over 1,000 people, nervousness set in, but it was too late to do anything about it.
Phil Usonis added, "I think you would have to be lying if you weren't at least a little bit nervous." The game started and straightaway it was a battle like no other. Both teams playing each other with an almost hatred in their hearts. 80 minutes elapsed and still no victor; it was too close to call, so our boys headed into overtime.
The first period of overtime ended and still no victor, so we went into the second half of overtime. With 2 minutes left, NA scored a goal and our boys' hearts sank. It was a terrible feeling to lose something that you thought you deserved, but it strengthened the team by showing Cape that they can't ever take things for granted because you never know when a team will surprise you.
Now with one more tournament left in the season, they have a chance at redemption that they are so desperately looking for. "This is our chance to show these teams that Cape Henry can do things that they can't," said Coach Brun. The State tournament is the only thing they have left and will be decidedly more difficult. No doubt, the team will put their hearts and souls into every game and will not be taken lightly.
Leave a Comment