Student Spotlight: Rachel Sobers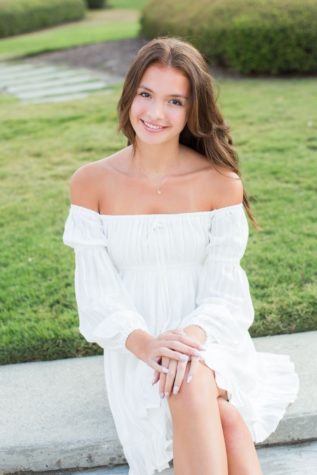 Senior Rachel Sobers perfectly represents Cape Henry Collegiate and the opportunities, along with the core values, the school offers. Rachel has been going to Cape Henry since the ninth grade because her previous school was only K-8.
 Throughout her four years, she continues to represent the core values: opportunity, scholarship, integrity, and community. The one she best portrays is opportunity because she takes advantage of the environment around her and the opportunities it offers. 
"I try not only to take opportunities presented to me in order to explore, but I try to create them for myself so that I can grow personally," Sobers said. 
Sobers made the switch to come to Cape Henry because her brother, Jacob Sobers, Class of 2018, graduated from here.
 "He would constantly comment on the sense of community within the school and share about all of the opportunities that he was able to take part in, such as Nexus trips or sports events," Sobers said. 
When she visited, she fell in love with Cape Henry and felt comfortable with the people because of the warm community. 
"I then met a few girls from the school when touring, and I knew for sure that it was the place for me. Everyone was so sweet and welcoming, and I felt like I could really thrive in this environment," Sobers said. 
Rachel is a very well-rounded student taking a strong approach to academics, extracurriculars, and sports. Something no one knows about her is that she has tried every sport. Her favorite extracurricular activity that she does is track and field because she loves the atmosphere, team, coaches, and the ability to cheer others on. 
Another activity Rachel takes part in is the Just Dance Club. She started the Just Dance club with her friends, Seniors, Jillian Somers and Emma Scott. Through their club, they help students find a time in their day to have fun and laugh during advisory. 
"Emma, Jillian, and I wanted to start the Just Dance club because we are always dancing. We play when we are bored, and it always turns into a great time. We wanted to bring the fun to school and get other people to let loose and destress," Sobers said. 
Ever since her first day at Cape Henry, Rachel carries herself through the hallways with a smile on her face. With her positive attitude, her friends would best describe her as thoughtful because she tries not to make any decisions that wouldn't reflect who she is as a person, while maintaining the values important to her. Personal growth and goals are important to her and are something she could talk about for hours.
 "Personally, I am very goal-oriented, and I think that, in any situation, to be able to motivate oneself from within is extremely important not only in succeeding within the world that we live in but also in creating personal stability," Sobers said. 
Rachel continues to challenge herself academically through her schedule by taking: Honors Linear Algebra and Multivariable Calculus, AP Chemistry, AP Comparative Government and Politics, AP Drawing, AP Spanish Language and Culture, and AP English Literature and Composition. Not only is she challenging herself academically but is challenging herself to complete her main bucket list item: traveling to visit the major points in history that still exist today like the ones in Italy or Greece. 
Though she will miss Cape Henry, she hopes to leave a memorable legacy by making sure everyone who impacted her experience knows how much they mean to her. Rachel is a prime example of an excellent Cape Henry Collegiate student and is seen as an inspiration for many others. 
Leave a Comment