Spotlight on Mitchell Lugo, Class of 2022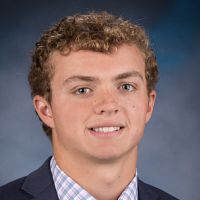 Around the Cape Henry Community, Mitchell Lugo can be described as a hardworking and respectful young man. In addition to Mitchell's work ethic, he is also described as outgoing and can find a way to get along with everyone in the Cape Henry community.
Mitchell was born in Monterey California and moved with his family to Virginia Beach at the age of four. Even though Mitchell was no longer in California, he still was able to develop a passion for surfing at a very young age, despite the minimal surf in Virginia Beach. As Mitchell and his family found their way around Virginia Beach, Mitchell developed a passion for soccer and has been very successful. Mitchell was a key defender for last year's state championship soccer team and when asked what accomplishment he was most proud of, Mitchell described how he "was proud of winning the soccer state championship." With this being said, Mitchell is quite bummed out that Covid might cause the cancelation of his junior season for the Cape Henry soccer team. Despite Mitchell's success on the soccer field, Mitchell describes how he does not have plans to play college soccer and plans to "go to college and get an education not too far from home, definitely on the East Coast."
Another interesting aspect of Mitchell's life outside of his soccer accomplishments is his long list of travel. Mitchell has traveled to Mexico, California, Hawaii, Florida, Spain, and Denmark. When asked about what he sees himself doing in the future, Mitchell describes how he sees himself either working in business or for the Navy, and it is no doubt that Mitchell has a bright future ahead of him.
Leave a Comment