Alumni Spotlight on Mrs. Gabrielle Weisberg Cabreros – Class of 2003
Mrs. Gabrielle Cabreros, beloved Upper School English teacher, has been an active member of the Cape Henry community since 1993. Her entire life has been rooted in the Hampton roads community and still is. Gabrielle was born in Norfolk, VA. She spent her formative years in Virginia Beach, where she attended Cape Henry and then moved temporarily to Charlottesville during her college years. She attended the University of Virginia for her undergraduate degree. This is where she studied English and religious studies. Some of her favorite classes were anthropology (specifically, the anthropology of colonialism), architecture (a class on race in American places that reflected on racial injustices involved in urban planning), and creative writing. She received her undergraduate degree in English literature, with a minor in religious studies at the University of Virginia, but her education didn't stop there. From there she went on to study at Bread Loaf School of English, which is a school within Middlebury College and received her Master's degree in English literature. Her next step in life was to use her education to fulfill her career dreams.
After graduating she moved back to Virginia Beach and took her first job at The Leukemia and Lymphoma Society. This is where she worked as a campaign coordinator for Team in Training. This was her first job after graduating, her first experience in the working world. Her position was working on a campaign called Team Training, which was a fundraising campaign where the participants would race in marathons, half-marathons, triathlons, and century cycle rides in honor of someone battling blood cancer. She worked specifically on running informational meetings, leading team runs, and workouts, and conducting team-building activities. She also was active in the work she did. She got to attend many races, including The Nation's Triathlon in DC and the Country Music Marathon in Nashville. Gabrielle explained that it was an interesting and fun job, but unfortunately, she would work 45 to 55 hour weeks for such low pay that she couldn't afford her bills. It was a learning experience but the next step was to find a higher paying job. The next job she took was only for a brief period of time, working for advertising sales for Hampton Roads Magazine (also known as Coastal Virginia Magazine).
Eventually, she took a teaching position at Cape Henry in 2009 and has been working there ever since. She might have graduated in 2003 but she still can remember many things from her years at Cape Henry. What she remembers is that "It was a lot smaller! At one point, they were building on to the school (I think it was the Science and Tech building) and I attended Spanish class in a trailer in the open land next to the library". She also had many of the same teachers that students have today. She had Mrs. Zimmerman, then known as Miss Frankenberry, for Algebra 1 and 2, Mrs. Kerbin for Geometry and Pre-Calculus, Mr. Logan for chorus, and Mrs. Mason for 8th-grade history. She can remember in middle school taking class trips to Busch Gardens every year before starting classes, which was always the highlight of the year. She also remembers chorus being a crucial part of her Cape Henry education. She had a passion for chorus and participated in District and All-State almost every year. Throughout her years at Cape Henry, she was known as a very passionate, over the top personality, who enjoyed making people laugh and had no problem arguing with anyone when she had a strong conviction about something. She even got herself and her classmates kicked out of the senior lounge a couple of times, because of how passionately she believed in what she thought and spoke accordingly. Cape Henry prepared her as a young person going into the real world by giving her opportunities to self-advocate, which are necessary in high school and beyond. It gave her better communications skills than other kids her age.
Cape Henry isn't the only familiar thing in the Hampton Roads area that has kept her here. Both of her parents live in Virginia Beach, as well as her sister and her husbands' parents. She has been married for 10 years to the love of her life, Rey. She has two adorable children, Margot (4, who attends Cape Henry) and Keane (8 ½ months). This is where she gets to live her dreams surrounded by all the people she loves. Outside of work and her family, Gabrielle enjoys yoga and has actually taught classes for a long time. She also likes writing (when she can find the time) and would love to get back into playing the piano, which is hard when you have small children, but it is an art she loves. In the future, she would really love to have her own work published someday and to work with her sister on a few projects concerning mindfulness education. What she would like everyone to take away from her life and what she has experienced is that "the more life I live and the more experiences I have, the more obvious it becomes to me that judgment of others is completely ridiculous, because no one has any idea the depth of experiences that make other people who they are."
Leave a Comment
About the Contributor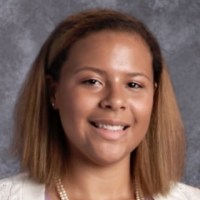 Kiara Baxter, Staff Writer
Kiara Baxter, Class of 2020, always has her nose in a book. Not only does she enjoy reading stories, she also enjoys writing them. Journalism is a way...