Junior Class Job Shadowing Day – A 9 to 5 Experience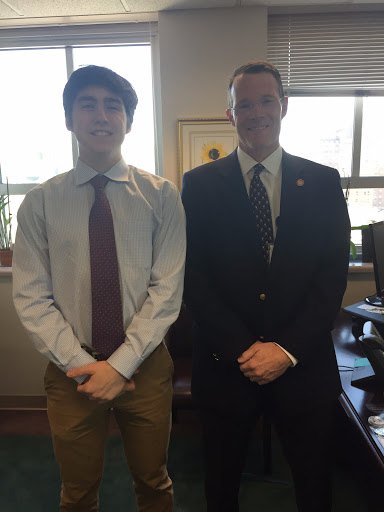 To quote Dolly Parton in her hit song "9 to 5," Wednesday, April 3rd consisted of our beloved class of 2020 waking up early and pouring themselves "a cup of ambition" as they headed across Virginia Beach, Virginia, and even New York for Job Shadow day. Job Shadow Day, as some people may not necessarily know about, is a day where Juniors in the Cape Henry Upper School head out to various work fields, and they follow around/observe the daily routines of someone in their desired field. Of course, these fields were not chosen at random; each student sent in a request prior to their quasi-internship for three specific fields of their choice, and the faculty was tasked with finding a job within one of the three desired fields for each individual student. Some went to anesthesiologists, others rode around in Ambulances for the day, and some even worked at clothing stores; each student went somewhere and each student gained both knowledge and work experience during the day. Although everyone ended up working with or shadowing someone, some gained more experience than others, and some enjoyed their time more than others. Nonetheless, the group of Juniors gained experience and were able to gauge whether they want to continue searching for a career in their field of choice.
As the day came to an end, and with work experience and job analysis still fresh in their minds, I emailed my fellow classmates to see what their experiences were like, while also comparing and contrasting their experiences with each other, as well as my own. The first responder, Rachel Moore 20', visited the CHKD Heart Center and shadowed Dr. Alexander Ellis. While she shadowed, she claimed to have had "an amazing time" whilst examining the many instruments and machines relating to heart monitoring, and she was fascinated by monitoring and hearing heart murmurs, checking the blood flow's direction, and to "solidify [her] love of pediatrics," seeing the numerous, strong families who were there to support their children in need. From her reaction, I am convinced that she wholeheartedly enjoyed her experience.
Alongside Rachel, other students like Ava Mager, Nadia Norman, and Milena Pulley also visited doctors in the medical, surgical, and dental fields. A solid portion of the Juniors followed around people with Medical Doctorates, Doctorates, and PhDs, including myself as well. I shadowed Dr. Hughes Melton, who was the Commissioner of the Virginia Department of Behavioral Health and Developmental Services. At first, I had no idea what to expect; I was told that although it wasn't exactly psychology, which was one of the fields I chose prior to Wednesday, it was government related and it dealt with helping the mentally ill, even if it wasn't the most direct way of aiding. I was able to sit through multiple meetings and interviews regarding their current business and whereabouts, and I even got to see a protest occur outside as the two of us sat and ate lunch in a Subway. It felt similar to an office job, except there were more meetings and interviews, and it felt less like I was restricted to one specific building.  
Opportunities like this do not often occur, much less to high schoolers, so such an occasion should be taken full advantage of. Of course not everyone loved their job shadow experience as much as the next person, but the fact that some people got to view plastic surgery procedures and even go to Manhattan is mind-boggling. There should definitely be some level of appreciation shown towards the people who allowed us to enter their place of work and examine their workspace, as well as themselves, and towards the Cape Henry staff for making everything work. Be it Mr. Angilly, who received details and helped communicate details between the students and adults, or Ms. Bryer, who reached out to these individuals in the first place after each adult completed their application form, I feel as though the faculty at Cape Henry deserves a wholehearted thank you from everyone who participated. I would have suggested a grade-wide thank you to the job hosts if we hadn't already sent them thank you letters. In the end, we should continue to be grateful for these amazing opportunities that Cape Henry allows us to take up; and remember, it's always better to try something and learn that you don't like it than to refuse to try it and live in uncertainty.
Leave a Comment