Senior Assassin – Who Will Be the Last Team Standing?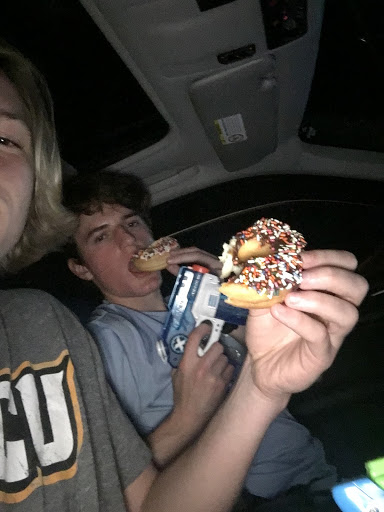 Essential Background: For those of you who haven't heard of Senior Assassin, let us give you a brief description. Despite its menacing name, the game of Assassin is actually quite fun. All competitors willingly enter the competition, competing for a cash prize and the honor of being able to outwit, outplay, and outlast their classmates. The object of the game is to shoot a secret target with a water gun.  Make no mistake, this event is NOT A SCHOOL-SPONSORED event and must take place solely OFF SCHOOL PROPERTY.  A long list of rules is shared ahead of time, and players spend plenty of time planning, strategizing, and talking with their teammates and classmates. The game is organized by a volunteer student who spends countless hours arranging teams, reviewing rules, settling disputes, and validating videos. Everyone else, honestly, spends countless hours talking about who is still in and who has been eliminated. While there are some people who disapprove of this type of activity for many valid reasons, there are just as many who embrace this fun game.
Week One Update:
Sometimes revealing your whereabouts during a war can be a bad idea, and you have to be clueless to exclaim where you are going to your killers. That's precisely what happened in the first week of Senior Assassin, and it is why Morgan Jones and Katie DiBona are already lying "6 feet under. " To get the full experience of the assassination, go on to CHCSeniorAssassin19 to watch the full video. For those juicy details that aren't in the video, you will get them right here.
On Wednesday, April 3, Morgan and Katie decided that it would be a wise decision to say that they were going to Chipotle for lunch. However, on this dark day, Charlotte Purkey and Libby Kennedy were in the senior lounge during their unfortunate public announcement of off-campus plans. Naturally, Charlotte and Libby followed the unknowing girls to Chipotle. When they walked in the door, Morgan and Katie said, "Oh, you scared me I thought you were coming to kill us." Charlotte and Libby replied, "Oh we are," as they opened fire with a water blaster. 
The only other team to go out so far was the dynamic duo of Ethan Jones and Emily Ryan.  They were taken out by Aiden Kuhle and Aedan Somers in just the fourth day of the competition.  Ethan was one of the first people to be eliminated after being squirted on Tuesday. On only the second day of the competition, Tuesday, the girls' soccer team had a team breakfast before school at Bagel Baker, so Aedan decided to stake it out, thinking he could get Emily.  Much to his delight, it was not Emily who entered, but rather Ethan, who was promptly eliminated. Emily was eliminated on Thursday when Aiden and Aedan staked out her house before school.  
There are a few individuals who have been eliminated from the competition this week including Skyler Herrle, Lexia Hann, Nick Capria, Nick Roland, Amberly Butler, Jamie Friedman, Cam Ciolfi, Martin Salzberg, and Elena Duncan.
To all the remaining players, be aware of your surroundings. You never know to what extent others will take to make you an unwitting target.
Leave a Comment