Humans of Cape Henry – Gabriella Gianascoli – Class of 2019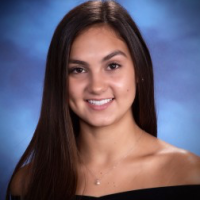 Background-
Gabriella was born and raised in Virginia Beach, beside her brother Joey and her sister Annika. Gabriella is the oldest of the children in her family; Joey is a freshman and Annika is in the 8th grade. Gabriella started her education as a preschool student at London Bridge Baptist church. Entering kindergarten, Gabriella joined the Cape Henry community. As a senior this year, this is her 13th year at CHC.
Interests-
At CHC, Gabriella has always had a special interest in Science. Currently taking AP Environmental Science, Gabriella enjoys this course because she is very interested in environmental science and the preservation of our planet. Athletically, she has been a great asset to the Girls Soccer program at Cape Henry. Gabriella has been playing soccer for Cape Henry since her 6th-grade year. Outside of Cape Henry, she really enjoys running, being lazy at times, and being around horses whenever she can.
Accomplishments-
Gabriella is a decorated student at Cape Henry. She has consecutively made the Honor Roll and the Headmaster's list, which indicates her devotion to her academic success. She is also a very respected individual in the Cape Henry community, which led to her election as an important member of the Honor Council. Her peers selected her as someone whom they would want to support and listen to them, in the case that they ever have to go before the Council.
Best Experiences-
When asked what some of her best life experiences have been, Gabriella's responses were centered around her family. She loves spending time with her family and shared how she specifically values the time spent, and the memories made with her grandmother. In particular, Gabriella enjoys holidays spent with her family.
Tough Experiences/Lessons Learned-
Going through life, Gabriella has inevitably faced challenges along the way. Through all of the difficulty and certain breakdowns of life, Gab has worked through everything with her heartwarming smile. She has learned to come out of tough situations with a positive attitude. Knowing that she is someone that her siblings look up to for advice and for support, she has grown into a person who has learned to take care of her siblings and their emotions. Gabriella shared, "A lot has happened this year, and being a bigger and stronger person to my siblings has been very important."
Leave a Comment