Humans of Cape Henry – Ms. Kisha Evans – CHC Development Office
Walking down the business hallway, adjoined to the Perry foyer, you will likely happen to smell a heavy aroma of seasonal Yankee candles. This sweet smell is coming from the office of, Ms. Kisha Evans, Development Assistant. Ms. Evans is new to the Cape Henry community along with her son Anthony, who is in kindergarten. However, she is not new to Virginia Beach. She left Virginia Beach to attend an all women's college and to live in Miami, Florida for six years. She earned her BA from Bennett College for Women and received her MA from Florida International University. Now she is back in Virginia and is enjoying her job at Cape Henry.
In her free time, Ms. Evans also enjoys writing and makes a business of it as well. Freelance writing gives her a chance to use her writing skills while also working with other businesses. One thing that has made a major impact on her life was her internship in DC at the EPA. There she worked with Habitat for Humanity and Black Congressional Congress. Overall, the best experience in Ms. Evans' life is being a mom to her son. Her sorority taught her selflessness and appreciation of other people and things, and that is all she wants for her son. She hopes for her son to develop into a well-rounded and accomplished boy, whatever that may bring for him. So if you ever need anyone to talk to, or help with organizing (one of her strong suits), then stop by the business hallway and ask for Kisha Evans.
Leave a Comment
About the Contributor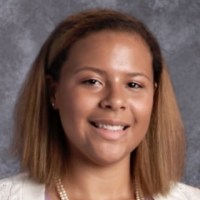 Kiara Baxter, Staff Writer
Kiara Baxter, Class of 2020, always has her nose in a book. Not only does she enjoy reading stories, she also enjoys writing them. Journalism is a way...