Humans of Cape Henry: Kiara Baxter – Class of 2020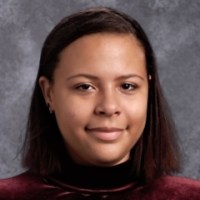 Background:

Before moving to Chesapeake, Virginia and attending Cape Henry, Kiara lived in Doylestown, Pennsylvania.  She lives with her mom, grandparents, one of her six sisters, and her cockapoo Buddy.

Interests:

Outside of school, Kiara is often reading a book, writing for her future career, or binging a new show on Netflix.  One of her Netflix favorites is "American Horror Story," a show she loves with her "whole heart" and has been watching since the beginning.  Kiara also enjoys watching Netflix's foreign TV shows like "Baby" and "Elite" because she can learn new languages from them and they show her how other countries run television.

Something Most People Do Not Know About Kiara:

Kiara shared that when she was three or four years old she always spoke in a British accent.  She said, "I watched a TV show and there were British people, so I wanted to be British too!" Kiara added that she wants to get a lot of tattoos when she is older.

Best Experiences:

For Kiara's 17th birthday, she visited her old hometown in Pennsylvania.  During this trip, she realized that Doylestown is where she wants to return to live as an adult and raise a family.  She added, "The small town made me feel so welcomed and everyone knew everyone and I really miss and want that." She is hoping she can go to college at NYU so she can be close to Doylestown while experiencing writing in a city setting.

Accomplishments:

At the conclusion of her sophomore year, Kiara received the Creative Writing award, which included a certificate and a donation for books and writing supplies.

Challenging Experiences and Lessons:

When asked a lesson she has learned in life, Kiara said that she should not trust anyone entirely.  She shared that learning to trust people again is one of the hardest experiences she has ever had. Kiara also said that you need to learn to trust yourself too.

Hopes and Plans for the Future:

Later in her life, Kiara wants to be a stay-at-home writer and mom to four to eight children.  She also wants to return to her hometown of Doylestown, Pennsylvania and open a library cafe where patrons can check out books and sit down for a cup of coffee.
Leave a Comment