#whychc – Grace Fluharty – Class of 2019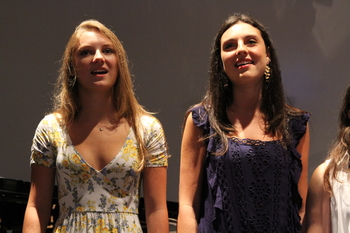 Grace Fluharty ('19) is a senior at Cape Henry and is already back into the swing of things!  For Grace, the best part about coming back to school is joining in in the arts, like chorus and theater because she gets her "creative mindset back" after the summer break and is "tackling projects much easier."  The triple threat has "a ton of homework" and has no time in her day to do it, which has been a bit of a struggle for her with her roles in the Upper School Women's Chorus and the Upper School Play, The Curious Incident of the Dog in the Night-Time.
A controversial topic among Upper School students during the first week back is the inability to leave the cafeteria during lunch, but Stock Watson ('19) chimed in during Grace's interview before play practice and said that the SCA is "working on it."  She agreed that she wants to "fix it for the good of the people," which prompted a lot of laughter. Grace loves the amount of opportunities that Cape Henry offers to her, saying she can "direct a play, be in a women's choir, or be a peer leader," which is why Cape Henry is such a great place to go to school.
Leave a Comment