Spotlight on Madisen Patrick – Class of 2019 – Irreplaceable, Involved, and Committed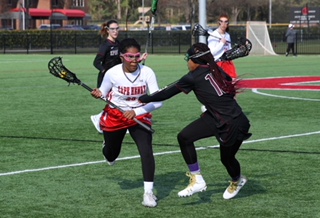 Madisen Patrick '19 has been a member of Cape Henry since 3rd grade. Madisen is currently 17 years old and was born on December 5, 2000. Originally from Hartford, Connecticut, she has lived in Minnesota and Virginia following that. Currently in Virginia Beach, Madisen lives with her mother and father. She has a sister who graduated from Cape Henry in 2016, who now studies at Emory University.
At Cape Henry, Madisen is very invested in athletics, academics, and extracurriculars. Her favorite class that she is taking is Mrs. Kerbin's Pre-Calculus class. She shared how every day that she enters that classroom she is happy to be there because of the people and teacher that she is surrounded by. Athletically, Patrick is a member of the Varsity girls' basketball team, Varsity girls' lacrosse team, and Varsity cross country team. Off the athletic fields, Madisen is a very diligent student and musician. She is a member of the Cape Henry jazz band, where she arrives to school before it starts in order to practice her instrument with her fellow band members. If that does not stand out enough to prove her commitment to success, Madisen has also been named the 'head of sales' for cape henry's Compass Rose Coffee Company. In addition to that, she has earned the name of President of the BSA club. Simply amazing and well-rounded overall.
Outside of school, Madisen enjoys going to the beach, attending sporting events, being in the company of her friends, and listening to music. She considers herself to be a kind, hardworking, and athletic individual, and all of these qualities prove to be true if you follow her success on the court/field and in the classroom.
It is clear, through her impressive involvement in Cape Henry Collegiate, that Madisen enjoys the school and the people that she works beside each day. She attests to this by sharing how much she likes "the opportunities, and the huge community…and the people.  That's what makes up the school – the good people."
After Madisen graduates in 2019, she is currently undecided on where she would like to go, but she knows for certain that she will further her education at a university or college. Whether she wants to play a sport in college and continue to expand her record of high school success, she is also undecided, but if the opportunity presents itself, and the school is the right fit, she will go after it.
This Junior represents Cape Henry each day in an inspiring way. She helps when it is needed, she cares for her community, and she is never afraid to flash her smile as she travels the hallways. Madisen has a contagious, positive character that lights her up to be a member of the Cape Henry community that will never quite be replaced.
Leave a Comment