Student Spotlight – Caroline Beaulieu – Class of 2019 – Motivated, Caring, Involved
Born and raised in Virginia Beach, Caroline Beaulieu ('19) has been an active member in the Cape Henry community for the past five years. She has been involved with cheerleading at CHC for the last five years, and has also been playing the flute in the band since she was in the 6th grade. Whenever Caroline is seen in the hallways, she can always be seen with a smile on her face, with immense positivity.
Caroline is a driven student who is also active outside of school, making her courseload difficult to manage, but she makes it work. Her favorite activities to do outside of school are to spend time with her friends and family, along with traveling and going to the beach. When asked about how her friends and family would describe her, she said, "My friends and family usually describe me as a person who is kind and cares about others. I feel as though this is accurate because I always try to be my best I can everyday and I am thankful that the people around me feel this way about me."
Caroline has always felt happy and secure in the Cape Henry community, and that every teacher and student is willing to help her when she needs it. Also, she said, "The thing I like the most about Cape Henry is the tight community that we have. I love the fact that everyone knows one another and we share a fun and happy attitude in the hallways everyday." Caroline also feels that she is set up for success at CHC, especially will everyone's willingness to help.
After high school, Caroline is unsure of where she desires to go to school, but her plan is to attend college. With her ability to balance school and extracurricular activities so successfully, she will excel wherever she decides to go.
When Caroline was asked to think about where she would be in ten years, she was in hopes that she would have a job that she would truly enjoy and be living by the beach. Additionally, Caroline was asked to describe herself, saying, "I would describe myself as someone who works hard each day and cares about my friends and of those in my community. I also try my absolute best to remain motivated each day to be the best person I can be!"
Ultimately, Caroline is a key component to our Cape Henry community, being involved and dedicated to everything she does. An ideal CHC student, she will excel in whatever she does, and will have a strong, successful future.
Leave a Comment
About the Writer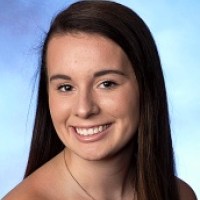 Rileigh Ramirez, Staff Writer
Rileigh Ramirez, Class of 2018, has been attending Cape Henry Collegiate since the fifth grade. Aspiring to go to college and major in journalism and intelligence...