Student Spotlight – Nadia Norman – Class of 2020 – How Well Do You Know Her?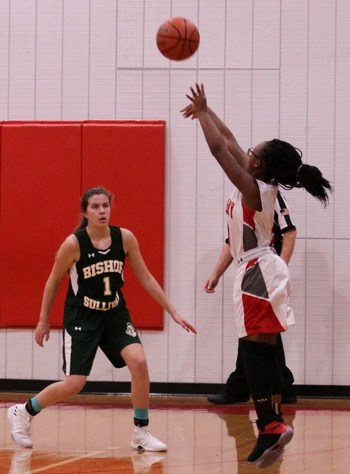 Nadia Norman is known to always be smiling.
Being the new kid in school is always a tough transition, but 10th grader Nadia Norman has made it look easy.
Nadia was born and raised in Virginia Beach and lives with her mother, father, and sister. Before Cape Henry, Nadia attended Norfolk Christian. Her parents were looking for a school that would offer her more opportunities and gave Nadia three options for her new school, Cape Henry, Norfolk Academy and Princess Anne. After her visit, Nadia knew that Cape Henry was the choice for her.
Nadia hopes to immerse herself in the Cape Henry community. This year she is on the varsity girls basketball team and will try out for the varsity softball team in the Spring. She also became part of Cape Henry's choir ensemble with Mr. Logan. In chorus, Nadia loves the chance she is given to share her voice with others. Class-wise Nadia loves math, and it seems to run in the family. Nadia stated, "My dad went to school for accounting, so math just came easily to me."
Outside of school Nadia is a busy girl. Her hobbies include dancing, especially on Just Dance, playing video games, singing, and hanging out with friends. One thing Nadia would like to work on is her artistic skills. If she could learn to do anything, it would be having the ability to draw and paint. Even though she has done amazing things there are so many more things she wants to do and learn. Some of her personal accomplishments include: being featured in the school newspaper for basketball, making all city chorus , making defensive MVP basketball and receiving two solos in singing.
Overall, Nadia thinks her transition from Norfolk Christian to Cape Henry has been just as great as she had hoped. "The learning style is also better," said Nadia, "I am able to grasp more information than at my old school." She stated that "the food at this school is much better than at Norfolk Christian," also "I have made many more male friends than I have at Norfolk Christian" and "the school as a whole is more accepting." Her favorite school members so far are not only the students but also the faculty and admissions, like Dr. Garran and Mrs. Finley. Overall, Nadia feels that she will receive better opportunities  at Cape Henry.
Nadia's plans after high school are to attend college at Gardner Webb University. After graduation, she dreams of living in a middle class home, having a husband and two kids, and working as a surgeon. In her future Nadia wants to also continue on with her singing career and play basketball on the side. Her love for surgery may have come from her favorite television show, Grey's Anatomy.
Those who know Nadia describe her as funny, goofy, and smiling almost all of the time. Mrs. Cabreros stated that, "She is a great addition to our school. She is an earnest learner, has a great amount of optimism, is a class leader, and I really appreciate the earnestness that she gives everything. I can see that she wants to get the most out of her experience and everyone else can see that too. I love her positivity in class and she is always smiling." Sierra Guluzian (Class of 2020) stated that "She has a big heart and always has a bunch of enthusiasm and energy. There is also always a smile on her face." Which she one hundred percent agrees with. Nadia stated that she "would like people to remember me as the girl who is always happy, and brightening everyone's day."
All together Nadia has enjoyed so far her transition from Norfolk Christian to Cape Henry and has found her place within the Cape Henry Collegiate Community. Mrs. Smith said that "It feels like Nadia has always been a part of the CHC family.  She is truly excited about being a student at Cape Henry and this is evidenced by her desire to involved in multiple areas of student life: academics, athletics, clubs and the arts." The students and faculty has welcomed Nadia into the community with open arms, and she plans on brightening everyone's day.
Leave a Comment