Student Spotlight on Alyssa Rodrigues, Class of 2022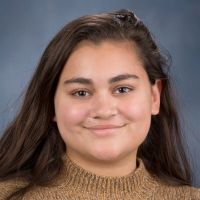 As the 2020-2021 school year commences, Cape Henry Collegiate welcomes Alyssa Rodrigues to the junior class. Just this past summer, she and her family moved to Virginia Beach from Toledo, Ohio. She is a world traveler and has developed interests in political science and international relations. In sixth grade, she joined a Model UN club where she studied and roleplayed global disputes. She chaired in multiple conferences and received many awards. Pursuing her passion for global studies, she also participated in a global leadership program and was named a future global leader. Recently, she joined the Global Scholars program at Cape Henry where she is sure to be an important asset due to her abundance of experience. 
Outside of school, Alyssa continues to discover more about the world. She has visited fifteen or more states in the United States and traveled to several countries, including India and Thailand. Although most of her travels had been arranged when she was younger, she continues to move around the United States and hopes to travel more in the future. It is also her hope to learn more languages like Norwegian and French in addition to English and Spanish. On top of that, she is a receptive bilingual in Hindi, meaning she can understand but not speak the language. Having traveled to so many countries, she has had the opportunity to experience unique cultures and societies. Despite her enthusiasm for traveling, she believes it is essential to maintain a balanced lifestyle between activities, friends and family, and school.
Leave a Comment