Spotlight on Katie Atherton – Class of 2018 – One of a Kind
Everyone around campus has heard about that Atherton-Crow family and with five children who have attended or are attending Cape Henry, how can they not be? Oldest child Cailey Crow graduated in 2014 and in 2016 both Tom Crow and Hunter Atherton graduated. Katie Atherton is a senior this year and will graduate in June of 2018, and the youngest child, Carter Atherton, is a sophomore and won't graduate until 2020. Katie is the oldest member of the Atherton-Crow clan currently attending Cape Henry and as she navigates through her final months of high school, she is crafting a scholastic, athletic, and philanthropic legacy that will live on long after she leaves.
As an athlete, Katie participates in girls' basketball during the winter season and girls' soccer during the spring season and is a key member of both. While Katie has a natural affinity for the field, she has no problem dominating on the court. Although Katie is a talented athlete, she does not plan on playing on any varsity team in college; however, she is considering "playing club soccer and/or other Intramural sports."
In the realm of academia, Katie received the honor of being inducted into the National Honor Society. Furthermore, Katie has achieved the highest honor by becoming one of the nineteen students inducted into the Cum Laude Society. Being inducted into the Cum Laude Society is a privilege afforded only to the top twenty percent of the senior class. Those who become members of The Cum Laude Society have the highest GPAs in their class and have achieved academic excellence.
Mrs. Zimmerman describes Katie as an "awesome [and] solid student" and finds that she is always "happy and helpful." During her Algebra 2 honors class, Mrs. Zimmerman recalls that Katie "helped set the pace of the class with her questions and involvement" and never hesitated to "help others while solving problems at the boards."
When questioned about her collegiate plans, Katie stated that she wants to attend Virginia Tech's Pamplin College of Business next year. Virginia Tech is like a second home to Katie and her family. Over the years she has attended numerous football games, enduring the long car rides and the brutal cold of Blacksburg. However, it's not only football that draws Katie to Tech. Thomas Atherton III, Katie's father, attended Virginia Tech from 1989 to 1992 and received his Bachelor of Science in Building Construction from Virginia Tech, Kendra Atherton, her mother, earned her Bachelor of Science in Finance from Virginia Tech, and three of her uncles and three of her aunts also attended Virginia Tech. In addition,  her sister, Cailey Crow, is a senior at Virginia Tech, her brothers, the aforementioned Tom Crow and Hunter Atherton, are currently attending Virginia Tech as sophomores where Tom is also a member of the men's golf team, and three of Katie's  cousins are also attending Virginia Tech.  Clearly for Katie and her entire family Virginia Tech is more than a school: it is home.
Although Katie has dedicated numerous hours to her studies, she also has dedicated her time to helping those who have lost a parent to cancer. Although Katie loves the work she does her philanthropic ventures were inspired by a personal tragedy. On November 24th of 2012, Katie's mother, Kendra Ruestow Atherton, died due to complications from adenocarcinoma of unknown primary site (ACUPS). Despite this tremendous tragedy, the Atherton children decided not to wallow in depression, but to cherish their mother's memory in the only way they knew how: with a race in her honor.  "Hunter came up with [the idea]," said Katie about the foundation of the k5k. "She loved to run so it was a perfect idea."
Each year the race is held the Saturday before Thanksgiving "because it is the closest to the day she passed without doing it over Thanksgiving weekend." This year's race was on November 18th at the 24th Street Park on the Boardwalk and marked five years since Kendra's passing. When asked about this year's race, Katie responded that "this year's turnout was amazing. We had the same number of registrants as we did last year, 509, but I felt as though more people showed up this year."
Because of the immense support, as of today, the k5k: A Run for Kendra has been able to award $50,000 in scholarships to rising college freshmen. This year's winners are seniors Aria Atuel, Christopher Cox, Hannah Laura, Cilvia Mass, and Jonai Smith and each will receive $2,500 in scholarship money. Each senior is from the Tidewater area, has  lost a parent to cancer, and "display the same characteristics and qualities as Kendra."
Although Katie has been an outstanding athlete, scholar, and philanthropist, perhaps the greatest impact she has had on our community has been left through her interactions with others. With her endless optimism and never-ending love of life, Katie inspires happiness in others wherever she goes. When Katie graduates, Cape Henry will have to say farewell to one of its brightest and most spirited students.
For more information about Kendra and the k5k consider the following articles and pages:
https://pilotonline.com/news/local/k-run-honors-memory-of-fitness-craved-mom/article_a231c457-dce8-5f85-bf64-d2c66a7f7f51.html
Leave a Comment
About the Contributor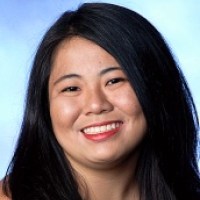 Julie Reid, Staff Photographer, Staff Writer
Julie J. Reid was born in Xiangtan, China. She was adopted at eight months and then was brought to Virginia Beach where she has remained ever since. Julie...