Boys varsity lacrosse wins one and loses one over weekend of play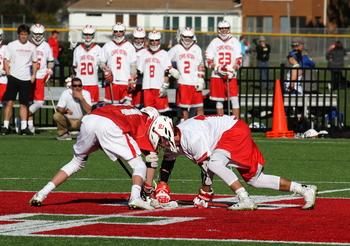 Hang on for a minute...we're trying to find some more stories you might like.
The Dolphins hosted St. Stephen's/St. Agnes on Friday afternoon, and fell by the final score of 15-5. The Dolphins opened the game in sloppy fashion with five first quarter turnovers, and they trailed 3-1 heading into the second quarter as a result. The Saints didn't hold back in the second, scoring five unanswered goals to take an 8-1 lead into halftime. Cape Henry settled down at the break, scoring four second half goals to the Saints seven, but the damage had been done. Joe Tobin led the Dolphins with two goals and two assists. Hunter Harrington, Andrew Jaycox and Colin Sharp each finished with a goal while Andrew Branson dished out an assist. Parker Tanner-Vigil faced a barrage of shots and finished with 12 saves.
The Dolphins rebounded nicely on Saturday when they traveled to face Christchurch School. After a difficult loss on Friday, Cape Henry started fast on Saturday, opening up a 7-0 first quarter lead. The Dolphins cruised from there, finishing with an 18-6 victory. Tyler Summers led the Dolphins offense with five goals and one assist. Andrew Branson added three goals and three assists while Joe Tobin finished with two goals and one assist. Hunter Harrington scored three times for the Dolphins while dishing out two assists. Devin Deming (one goal), Andrew Jaycox (one goal, one assist), Colton Wynne (one goal), Tyler Dillon (one goal, one assist), and Colin Sharp (one goal, one assist) closed out the scoring for the Dolphins. Parker Tanner-Vigil finished with seven saves. The Dolphins (3-2) begin preparations for Thursday's contest with state power, Richmond Collegiate.