Dolphins girls basketball set to celebrate Senior Night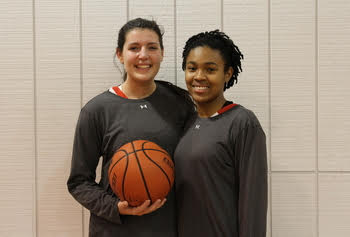 Hang on for a minute...we're trying to find some more stories you might like.
The varsity girl's basketball team is ready to finish an intense and competitive season. TCIS champions from last season meant high standards for the girls this year. With nine wins and six losses the Dolphins are tied for second place in TCIS with Norfolk Academy. The Dolphins continue their long standing rivalry with the first place team, Nansemond-Suffolk Academy.
For the past three years, the championship has come down to the the Saints versus the Dolphins. This year the team is coached by head coach Nicole Jackson and assisted by Mary White and Kavin DeJesus. The team is made up of juniors Stephanie Seaman, Kennedy Beale, Maddy Old, Haley Schultz and Cate Woodward, sophomores Katie Atherton and Taylor Smith, and 9th graders Chloe Carpenter and Madisen Patrick. However, the Dolphins are set to celebrate two beloved seniors: Izzy Haddad and Morgan Patrick.
Tonight, Thursday, February 16th, is the varsity girls basketball team's Senior Night. The game between the Dolphins and Beach starts at 5:30 p.m. The team is excited to appreciate their dear seniors and look to improve their record at the same time. For the juniors on the team, this is a particularly important night because the seniors have been a guiding force since their first years on the team.
Senior night is an important but bittersweet tradition. It is a night that the team gets to show their leaders how appreciative they are of their efforts. It is important to remember their glory moments and laugh at their crazy half court buzzer shots.
Izzy and Morgan have a special place in everyone's heart. They almost never miss practices and come in leading the team enthusiastically and passionately. Before every game Coach Jackson huddles the team together and says: "We are going on a road trip and what are you bringing?" For the past four years Izzy and Morgan have brought a combination of leadership, pride, defense, intensity, and passion. The underclass players are excited to give the seniors the night they deserve and get a "W" in the books on Thursday night.
Come on out to help the Dolphins celebrate in style, and make sure to stay for the boys game to celebrate their four graduating players as well: Malcolm Weathers, Mark Seaman, Wayne Simon, Ben Baumann, and Noah Lebrun.
See you there!