Methane Leak in CA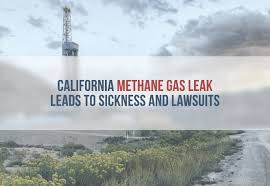 Hang on for a minute...we're trying to find some more stories you might like.
Last week, a major gas leak was announced in Los Angeles County. This leak might have been announced last week, but the problem has been going on since late October. This issue may not seem as bad as terrorism or the VW scandal, but it has caused major problems for the neighborhoods and schools near the leak. With the leak unable to be stopped at this moment, some industry experts say it will "take three to four months to complete." Since the city government has known about this leak since October, residents have filed "a lawsuit from the city of Los Angeles for not informing area residents about the leak right away."
The damage to the underground storage field has caused leaking "58,000 kilograms of methane per hour in its measurement on Nov. 28."
The residents of the area, "complained of headaches, nausea and nosebleeds." Along with this it has, "forced more than 2,000 families to move temporarily."
With the leak taking maybe until April or May to fix, already it has cost, "the utility company $50 million so far" and the number will keep going up until the company has fixed the gas leak. Another reason why this leak causes so much worry is how bad methane is when being released into the OZone layer.
Methane is known to be, "highest heat production per mass unit." This causes the OZone layer to capture more heat adding to the problems that global warming has caused already.
With the leak unable to be stop for at least "three to four months," the damage will only increase. Along with the damage, families are forced to leave their homes to get away from the methane that causes medical problems such as vomiting, headaches, and bloody noses. As the suburb Porter Ranch continues to suffer, so will the environment. Even though the leak might be fixed but the effects of the leak will be affecting us for years to come.
To Read More:
http://www.npr.org/sections/thetwo-way/2015/12/15/459816939/natural-gas-leak-in-california-raises-health-environmental-concerns
http://www.npr.org/2015/12/24/460959686/massive-methane-gas-leak-displaces-thousands-in-los-angeles-county
http://www.chicagotribune.com/news/nationworld/ct-porter-ranch-california-methane-gas-leak-20160110-story.html
http://www.flexenergy.com/wp-content/uploads/2012/03/FlexEnergy-Methane-Fact-Sheet.pdf