The VW Scandal Continues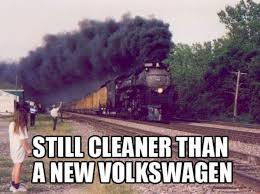 Hang on for a minute...we're trying to find some more stories you might like.
In fall of 2015, the car company VW was caught breaking the Clean Air Act. The company had technology to make vehicles change the amount of pollution they put out when going through the emission test required by law. This caused the CEO to step down from the company once the scandal was made public. Also other car branches of VW such as Audi and Porsche have also suffered from this scandal and all of the affected car companies have stopped shipping new diesel cars to America.
In yesterday's news it was announced that the US Department of Justice is suing VW for over 18 billion dollars because of their "environmental violations." The US Department of Justice states that the company "installed illegal devices in nearly 600,000 diesel engine systems to impair emissions controls, increasing harmful air pollution."
The request of this lawsuit was requested by Administration of the United States Environmental Protection Agency.
"The United States will pursue all appropriate remedies against Volkswagen to redress the violations of our nation's clean air laws alleged in the complaint" stated by John Cruden, assistant attorney general for the Justice Department's Environment and Natural Resources Division.
The scandal is believed to only have affected cars between years 2009 and 2015. "In the United States, there are at least 450 separate active lawsuits, primarily class-action cases brought on behalf of dealers, owners and people who leased affected VW models."
Also this is not the first time the US government has sued a car company. Back in 1998, seven heavy-duty truck companies had to pay over 1 billion dollars after they admitted to using "deceptive software in their vehicles."
As this scandal continues, more and more problems will come up for VW and no one knows when it will all be over. The BP oil spill took more than 5 years to just come up with how much the company will have to pay, VW could be the same.
If you would like to read the full stories:
http://www.nytimes.com/2016/01/05/business/vw-sued-justice-department-emissions-scandal.html?_r=0
http://www.wsj.com/articles/u-s-sues-volkswagen-over-emissions-scandal-1451932799
http://www.justice.gov/opa/pr/united-states-files-complaint-against-volkswagen-audi-and-porsche-alleged-clean-air-act