Microbeads Washed Out to Sea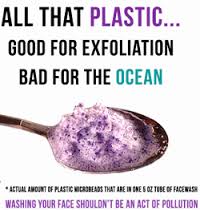 Hang on for a minute...we're trying to find some more stories you might like.
The world of cosmetics and hygiene took a step forward on December 28th of 2015. Just as the year came to a close, President Obama signed in a bill banning microbeads from production. Due to their small size, microbeads often go unnoticed in daily life, but they are more prevalent than expected.
Included in everything from toothpaste to facial cleansers, microbeads have been utilised for years by companies such as Crest and Clean and Clear. These small plastic spheres act as cleansing agents and carriers for small amounts of chemicals. To qualify as a microbead, the sphere must be composed of polyethylene or other petrochemical plastics, and must be less than five millimeters around. Low melting points makes these balls ideal for transmitting chemicals within products.
On the surface, microbeads seem to be a goldilocks invention, but they also introduce several problems. Beauty and hygiene products almost always end up being washed down the drain when used. Each water drain ultimately leads to sewage treatments plants before the water is passed on to the ocean. The treatment plants are designed to filter out any excess waste in water, but the size of the microbeads allows them to bypass the filters and go straight to open waters.
The United States alone dumps over 1 trillion individual microbeads into lakes and oceans every day. Pollution on this scale presents massive problems for aquatic life. Fish and other marine animals consume these beads and the beads also affect marine plant life through chemical pollution.
For reasons such as these, the United States Congress created a bipartisan bill to ban the production of microbeads. Activists and environmental advocates around the world celebrated the enacting of this bill. Some states took steps prior to congress in order to ban microbeads, but corporations were able to continue by producing in other states. Now that the bill has been signed in by President Obama, it will become a federal law banning microbeads. In spite of this environmental victory, the ban will not take effect until 2017 leaving businesses one year to cease production and alter products.